Small Business Pest Control Services
Pests Contaminate TEN TIMES as Much as They Eat
A single rat can eat a lot of valuable food and merchandise in its lifetime, but it can contaminate up to 10 times more than it eats. And since rats and mice can adapt to every environment, no building or business is safe from them.
But rats and mice aren't the only pests that threaten your business. There are 50+ species of roaches in the U.S. alone. And for every roach you or your customers see there are hundreds, maybe thousands, that you don't. Each female lays 30+ eggs at a time, and it only takes a month or two for them to develop into adult roaches. So, as often as every two months you could have 40 times as many roaches as before.
They Carry Many Diseases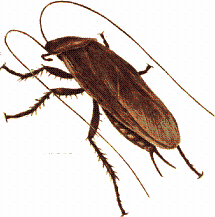 All pests are filthy and are capable of spreading germs that can cause disease, even death. Murine typhus, infectious jaundice, rat bite fever, trichinosis, food poisoning, dysentery, typhoid fever, cholera and diarrhea are just a few diseases that can be transmitted by pests.
NO Business is Safe!
Pests infest all types of businesses. Of course, you know that they are especially attracted to businesses that are involved in food preparation and storage, so you may think your safe just because you're not in the food business. Unfortunately that's not true. Some pest such as roaches have been known to live as long as a month without a bite of food. So they can manage just fine in your office or business.
The fact that pest don't discriminate about which businesses they infest is why InspectorUSA Termite & Pest Control can service any type of small business.
These include:
Grocery Stores & Quick Marts
Restaurants & Fast Food Outlets
Apartments
Laundry Mats & Dry Cleaners
Recreational Centers
Video Stores
Clothing Stores
Sundry Stores
Auto Dealerships
Appliance Stores
Beauty & Barber Shops
Carpet & Home Furnishing Stores
Churches
Doctors Offices
Farm Supply Stores
Florists
Funeral Homes
Kennels & Veterinarian Clinics
Movie Theatres
Moving & Storage Companies
Office Buildings
and many others
Pests Can Ruin Your Business
With InspectorUSA Termite & Pest Control's Small Business Service you will receive the personalized service you deserve, from a locally owned and operated company instead of cookie cutter programs provided by revolving door employees from those large national or regional companies.
At InspectorUSA Termite & Pest Control we understand the importance of protecting your reputation. Only by protecting your reputation can we protect ours.
As a small local business we don't have millions of dollars to spend on fancy advertising to replace customers that we have failed to satisfy. What we have is the ability to provide you with the best possible service with a smile, a hand shake and a promise to be there if you ever have a problem.
InspectorUSA Termite & Pest Control is State Licensed and Certified to provide your with a full line of pest control services. From roaches to lady bugs to ants to spiders we have the knowledge and experience to solve your small business pest problems fast. And we can usually provide superior service for half the cost of our larger competitors. Also by choosing to do business with InspectorUSA Termite & Pest Control you are supporting a fellow local business, not sending your money out of state to a large national firm.
When you need professional, personalized pest control solutions, please give InspectorUSA Termite & Pest Control a chance to serve you.